October 3, 2013 5:19 pm
Keys to Effective Advocacy Relations
Pharmaceutical and biotech companies are increasingly recognizing the importance of working with patient advocacy groups and professional associations to advance mutual goals.  Pharma executives across many functions, including alliance development, marketing, PR/communications, government relations,  and managed markets, are partnering with patient and professional groups to develop innovative disease awareness programs, ensure patient access to appropriate treatments, and engage in other initiatives that meet patients' needs. The credibility and influence of advocacy groups, combined with the resources of industry, can have a positive impact when partnerships are approached with honesty, integrity and transparency.
However, effective advocacy relations must be strategic, targeted and measurable. Executives need to ask:
What types of support are groups most interested in receiving from industry partners?
How does my company rank against others in providing support to advocacy organizations?
Which companies have the best corporate image among advocacy groups and why?
Which healthcare policy issues are of greatest concern to advocacy groups?
How are groups engaging with pharma on policy activities?
The STAR Report, a syndicated market research offering from The Brooks Group and Mark Krueger & Associates, allows you to benchmark your company's advocacy relations efforts against your competitors and identify ways to enhance partnerships with advocacy groups. The 2013 STAR Report shares insights from patient advocacy groups and professional associations across 15 therapeutic areas.
The data reveals:
For the second year, Roche/Genentech and Pfizer were nominated as the top two companies providing support to advocacy organizations across all disease states. Groups appreciate Genentech's forward thinking approach and long-standing relationships. Pfizer's personnel are praised for their in-depth knowledge and networking abilities.
Leading companies in total advocacy support vary by therapeutic area. For example, Celgene ranks first in overall advocacy support among hematology groups, whereas Gilead received the most nominations overall among HIV/AIDS groups.
Areas of interest vary by therapeutic area. Cardiovascular groups are most interested in support related to disease awareness and education, whereas groups focused on musculoskeletal conditions express the most interest in support for non-CME programs.
The top 10 companies providing support to patient advocacy organizations and professional associations in the 2013 STAR Report are: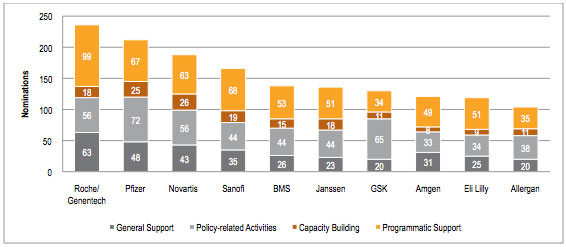 About STAR
Launched in 2010, the STAR report is a syndicated market research report allowing pharmaceutical and biotech companies to benchmark their company's advocacy relations efforts.  STAR helps companies understand emerging policy and advocacy trends, enabling companies to quickly develop, commercialize, differentiate, and secure reimbursement for products.
About The Brooks Group
Since 1996, The Brooks Group has been providing syndicated and customized market research management consulting, and strategic planning, and business skills training to a variety of different functions and roles within pharmaceutical and biotech companies, with specific expertise and competencies in sales and marketing for managed markets.
About Mark Krueger & Associates, Inc.
Since 1995, Mark Krueger & Associates, Inc. has been a leader in health care constituency relations.  Clients include global research and development based pharmaceutical companies as well as biotechnology and health care device and diagnostic companies.  Mark Krueger & Associates focuses on establishing and enhancing partnerships between companies and the diverse groups that influence the success of their products.